In business, opportunity can be defined as an economic idea that a business person can convert into a business enterprise to earn profit. If an entrepreneur converts ideas into enterprise without analyzing, it may result in the failure of the business. Here, we investigated how business opportunity identification and selection are made. Now, you will know the methods of generating business ideas in entrepreneurship.
Methods of Generating New Ideas for Entrepreneurs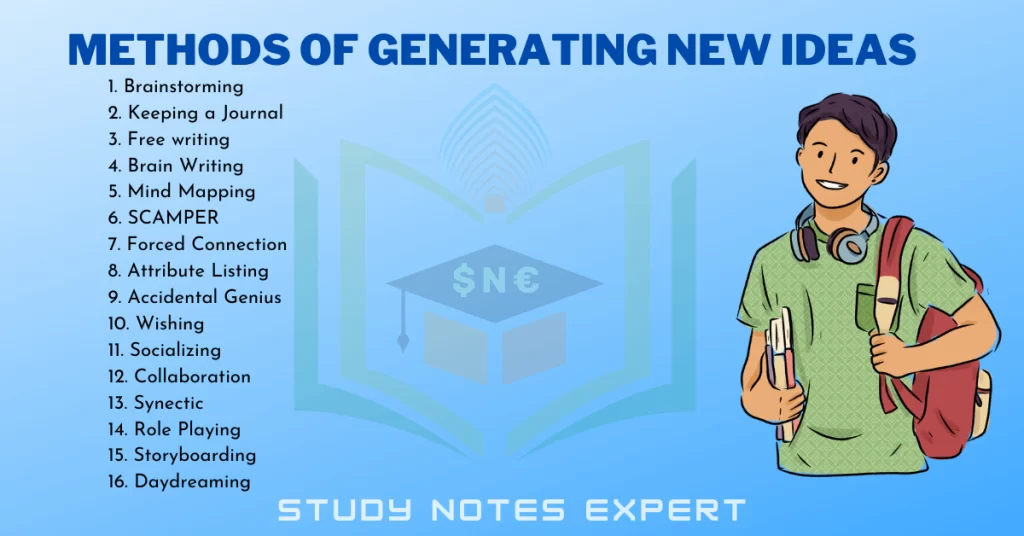 Some methods to generate new ideas for business are as follows:
1. Brainstorming
It is the best-known and most widely used tool of creative thinking. In a short period, it generates many ideas. There is no place for criticisms and prior judgment of any idea. It is one of the idea-generation techniques. It can be done both individually and in groups. This tool uses one idea to stimulate other ideas. In the end, mix all ideas & generate one best idea. It is one of the methods of generating new ideas for entrepreneurs.
2. Keeping a Journal
Keeping a journal is also used as methods of generating new ideas for entrepreneurs. Journals are an effective way to record ideas when people are suddenly thinking about ideas. By carrying a journal, one can note it down and help record ideas. However, one can create a collection of thoughts on various subjects. Later on, it becomes a source of ideas.
3. Free writing
A business person can also use it to ask someone to write anything that comes to mind about the subject. In this, a person will focus on a particular topic and write non-stop about it for a short period. The idea is written down without stopping to proofread or revise the writing. It can be said a method of idea generation and if this idea generation will make the wording attractive and also add the emoji and stylish text for more uniqueness and eye-catching you can use stylish text generator by Fontsz which makes your idea more appealing.
4. Brain Writing
It is like brainstorming, but it is done quietly. It is very effective in situations where participants are reluctant to express their ideas. It is one of the methods of generating new ideas for entrepreneurs.
The steps include are:
First step: One person directs to write the first idea in 5 minutes, then so on.
Second step: Each person writes an idea in each box of the first row.
Third step: After retaking another sheet, come to the first person and write ideas on the second row after reading another person's idea. It is the methods of generating ideas.
Fourth step: Above process continues until all the boxes are filled with ideas.
5. Mind Mapping
It is another highly effective tool which is quite similar to brainstorming. It is the best methods to generate new ideas for business. It involves putting brainstormed ideas in a visual map or picture or a graphical presentation showing the relationship among these ideas. It is one of the techniques for generating ideas.
6. SCAMPER
Alex Osborn, a pioneer creativity teacher, first identified the nine principal ways of improving divergent thinking. Bob Eberle later arranged them into an easy-to-remember acronym, SCAMPER. It is a tool for generating ideas that work well with other diverging tools, mainly when a group has trouble generating new ideas or when all the ideas seem very similar. It is one of the best methods of generating new ideas for entrepreneurs.
S- Substitute- What can you substitute for it?
C- Combine- What can be combined with it?
A- Adapt- What else is like this?
M- Modify- Could we change an existing idea or product?
P- Put to other uses- How can I use this new way?
E- Eliminate- What can be omitted or eliminated?
R- Reverse- Could I do the opposite?
Examples:
Substitute: Keyboard Cellphone- Substitute them with- Touch Screen Phone.
Combine: The first computer did not have a mouse- After the invention mouse combined- Your computer combined with a mouse.
Adapt: SUV cars were not popular in the 90s- Adapt new model of SUV- SUVs' sports car is highly populated.
Modify: Companies introduce their product in bigger sizes & high prices like: Touch Screen Phone- Modify product size and price- Tablet(tab).
Put to other use: Earlier computers were made only for an elder in the office, but now it is also used by school children. It is the methods of generating new ideas for entrepreneurs.
Eliminate: In 1999 NOKIA only used cell phones, but now it is eliminated, and new branded phones are invented in the modern era.
Reverse: By reversing the concept of furniture. Firstly, affordable furniture- They thought what was unthinkable.- Customers will save money by assembling the furniture themselves.
7. Forced Connection
It takes some information by forcing novel thinking. A businessman can use it on their own or as a part of a brainstorming or brain-writing session. This tool facilitates holding up or pointing to an object unrelated to the problem. It is a practice of combining new ideas that don't appear in relation in any way. However, it is the methods of generating new ideas for entrepreneurs.
8. Attribute Listing
Attribute listing in entrepreneurship, morphological analysis and matrix analysis are good techniques for generating new, imaginative and unexpected ideas. It is the methods of generating new ideas for entrepreneurs. It can be methods of generating ideas in entrepreneurship.
The steps include are:
Step 1: List the attributes(product, design, quality).
Step 2: Draw a table using the attribute as the column heading.
Step 3: Write down variations of attributes as possible in value.
Step 4: Select one entry from each column.
Step 5: Improve the mixture of elements and may be merely a starting point for a new way of thinking about a task.
9. Accidental Genius
It is a relatively new technique that utilises writing to trigger the best ideas, content and insight.
10. Wishing
An entrepreneur can begin these methods of generating new ideas for entrepreneurs by asking for the unattainable & then brainstorming ideas to make it or at least an approximation of it. It makes your wishes tangible & works with your team to generate 20 to 30 wishes about your business. Focus on these impossible wishes & use them to create new ideas.
11. Socialising
If employers only hang around with colleagues and friends, they could find themselves in a thinking rut. Socialising methods of generating new ideas for entrepreneurs in the context of Ideation can also be about talking to others on topics that have nothing to do with the present problem.
12. Collaboration
As the term indicates, collaboration involves two or more people joining hands to work for a common goal. Designers frequently work in groups and engage in collaborative creativity during the whole creative process. It is one of the methods of generating new ideas for entrepreneurs.
13. Synectics
These are the creative idea generation & problem-solving methods of generating new ideas for entrepreneurs that arouses thought processes that the subject may not know. According to J.J. Gooden, three key assumptions are associated with synectics research.
It is possible to describe & teach the creative process.
Invention processes in sciences and the arts are analogous & triggered by the very same "psychic" processes.
Group and individual creativity and analogous.
14. Role Playing
In the role-playing methods of generating new ideas for entrepreneurs, each participant can take on a personality or role different from their own. As the technique is fun, it can help people reduce their inhibitions and come out with unexpected ideas.
15. Storyboarding
People develop a visual story to explore through these methods of generating new ideas for entrepreneurs. It helps in exploring the information they gained from creative people during research. All ideas are noted on a comparable surface, and the relation between ideas is considered.
16. Daydreaming
Daydreaming is one of the most fundamental methods of generating new ideas for entrepreneurs to trigger great ideas. The word "daydream" itself involuntarily triggers an expressive and playful thought process. The focus of production daydreaming is a particular goal irrespective of whether it seems to be a practice task.
Conclusion
There are several techniques for producing new thoughts for marketers: brainstorming, marketplace studies, experimenting and trying out, networking, and collaborating. Each entrepreneur may discover an extraordinary technique that works best for them, and it's essential to be open to new thoughts and views to preserve, innovate and grow.
What is a Common Method used to Generate New Profit Ideas?
A common technique to generate new income ideas is to investigate current business operations and identify areas in which efficiencies can be stepped forward, or new sales streams may be advanced. This technique is often known as "commercial enterprise system reengineering" or "enterprise system development."
We are sorry that this post was not useful for you!
Let us improve this post!
Tell us how we can improve this post?